World Woman Foundation is delighted to announce Geralyn Ritter, Executive Vice President of External Affairs & ESG of Organon as the World Woman Hero honoree for 2023 during World Economic Forum week.  The award ceremony was held at Hard Rock International in Davos on Jan 19, 2023.
World Woman Foundation annually honors female leaders who have demonstrated leadership, strength, and courage in their commitment to causes or positively impacted others' lives of women and girls to create a better world.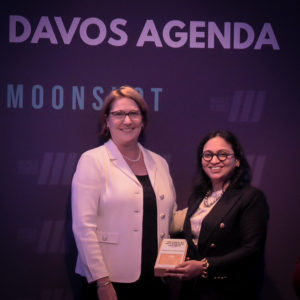 Battling through a major setback to her own health, Geralyn has emerged as a leading advocate for all women's health. After a terrible accident that required years of surgeries and painful healing, she became a speaker and author on recovery from severe trauma. Meanwhile, at Organon, a company devoted to medical treatments for women, she focuses on filling the many gaps that still exist in meeting women's unique healthcare needs. World Woman Hero Geralyn Ritter is a champion and changemaker for leading change for women in a bold new way.
The World Woman Hero honorees include; Helen Clark, Former Prime Minister of New Zealand; Ghada Owais, Lebanese broadcast journalist Al-Jazeera;  Federica Marchionni, CEO of Global Fashion Agenda; Fatma Al Nuaimi, Communications & Media Executive Director at the Supreme Committee for Delivery & Legacy (SC), Qatar. Nicola Mendelsohn, VP of Global Business Group, Meta
Global leaders from 30+ countries and 450 delegates attended the conference and World Woman Hero Awards during the World Economic Forum Week in the heart of Davos to launch a bold new gender equality agenda for women and girls. 
It is our honor to celebrate heroes like Geralyn, who have dedicated their lives to improving the state of women's and girls' equality in a bold new way that is about dignity, choice, and equality. The new wave of change for women is possible only because of heroes like Geralyn, who lead the change by example. We are delighted to honor her with World Woman Hero Award 2023." says Rupa Dash, Co-Founder, and CEO of, the World Woman Foundation