World Woman Foundation is delighted to announce Ghada Oueiss, Broadcast journalist, Al Jazeera as the World Woman Hero honoree for 2023 during World Economic Forum week.  The award ceremony was held at Hard Rock International in Davos on Jan 19, 2023.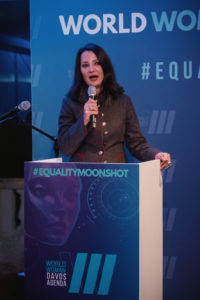 Time and again, Ghada Oueiss, a Broadcast journalist at Al Jazeera, has demonstrated the personal courage and professional commitment it takes to be a leading female TV journalist in the traditionally male-dominated Middle East. She has reported on the ground from a dangerous war zone. She has criticized government officials despite vicious social-media campaigns against her. All of this makes Ghada an impactful voice and a woman to watch in the years ahead.

"World Woman Hero Ghada Oueiss is an impactful voice and a woman to watch in the years ahead, fighting for equality and justice for women and girls in the Middle East. "
The World Woman Hero honorees include; Helen Clark, Former Prime Minister of New Zealand; Federica Marchionni, CEO Global Fashion Agenda; Fatma Al Nuaimi, Communications & Media Executive Director at the Supreme Committee for Delivery & Legacy (SC), Qatar. Nicola Mendelsohn, VP of Global Business Group, Meta and Geralyn Ritter, EVP, External Affairs & ESG, Organon.
Global leaders from 30+ countries and 450 delegates attended the conference and World Woman Hero Awards during the World Economic Forum Week in the heart of Davos to launch a bold new gender equality agenda for women and girls. 
It is our honor to celebrate heroes like Ghada Oueiss, who have dedicated their lives to improving the state of women's and girls' equality in a bold new way that is about dignity, choice, and equality. The new wave of change for women is possible only because of heroes like Ghada, who lead the change by example. We are delighted to honor her with World Woman Hero Award 2023." says Rupa Dash, Co-Founder, and CEO of, the World Woman Foundation